>> Friday, July 6, 2012
Since I have decided against going to a group for fabric addiction I've decided I can post about Fabric. I might change my mind about that if I get a car anytime soon. So I will post about it on Fridays. Maybe every Friday because Fabric Friday sounds pretty good. If you have any ideas about fabric you like and why you like it or fabric storage just let me know.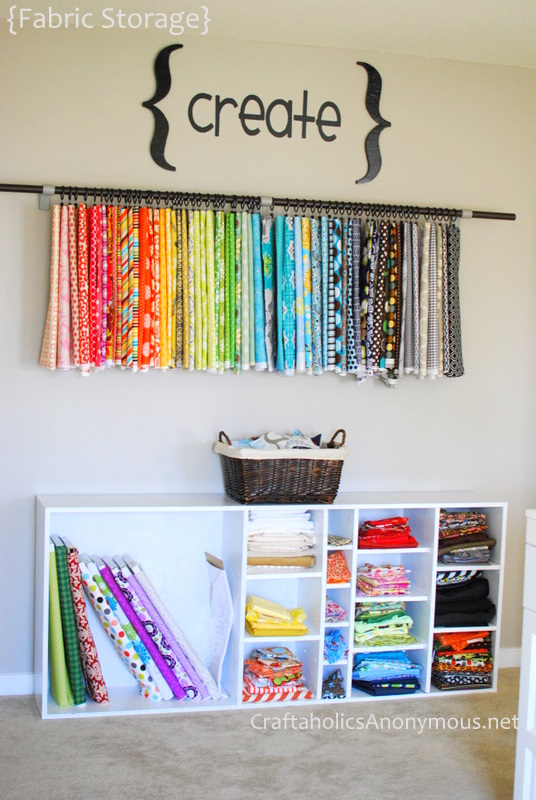 So I thought first I would share a fabric idea from
Craftaholics Anonymous
that I totally started to copy in the Scranton house. OK right now I'm a bit in transition so I don't have a real place to store my fabric right now. Or my own place. It's also nice to surround yourself with people who are beautiful inside and beautiful things. I've learned recently who is good to have around in an emergency and how they aren't always who you suspect. I'm really blessed to have such great friends. and I'm blessed that I still have things I can enjoy to do, like fantasizing about different projects I can make. Hopefully I will be able to sell enough stuff on Etsy for a while to pay off some of my debt and become financially self sufficient. Scary! life can be super overwhelming- and trying to keep a clean house is also super overwhelming.
You know what makes it feel better? Thinking of people with awesome fabric storage. Like
Linda
and her
Ideas for Storing Fabri
c on her neat Blog.
Don't you wish your floor looked this great? I know it looks like brand new carpet and it doesn't have any toys on it. So it's not my house. Oh wait- don't have a house right now...Anyway I love the way she has organized it. Not to mention that she has some fantastic fabric that I would like to own. I love the curtain rod clips to store fabric- they are perfect! It just looks like it could be in a store- and I secretly want my craft room to look like a store. If I ever get a craft room again. Ok I will get a craft room again- I decided it's official. You know what would be cool? Owning a fabric store and just being with people all day talking about different projects and helping them organize their homes. And helping them spend their money. I could really do that for a living I think. Maybe I will earn enough to buy millions of the cute little clips for my fabric.
What are some of the best ideas you've seen for organizing fabric?